In September 2020 State Gas was awarded 1414km2 of new acreage by the Queensland Government, contiguous with the Company's Reid's Dome Project (PL 231). The new ATP 2062, (Rolleston-West) contains targets for both coal seam gas (CSG) and known conventional gas within the permit area. It is not subject to a domestic gas reservation.
The Bandanna coal measures, a proven resource for CSG at Mahalo to the north east and the Arcadia Valley to the south, are extensive across ATP 2062. The area also contains several promising conventional targets identified by historical seismic and drilling.
Being contiguous with Reid's Dome, Rolleston-West will enable the Company to integrate activities and undertake a unified development across both areas. Facilities and infrastructure can be shared and optimally located and economies of scale can be obtained. The new acreage adds substantially to the critical mass and upside potential of State Gas.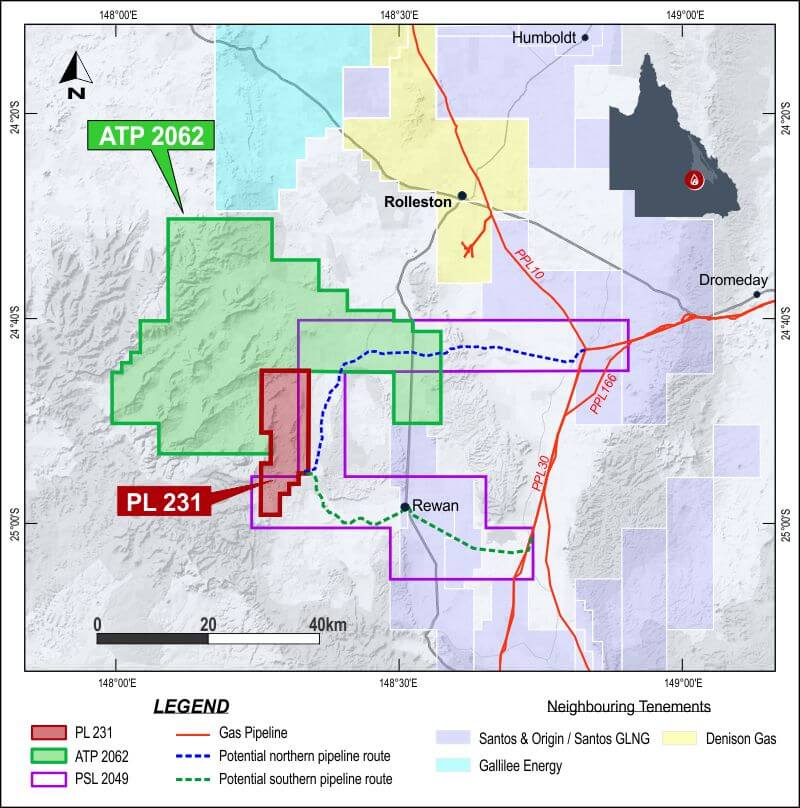 Gas from both areas will be exported through a single pipeline, currently being planned by State Gas. The Company has identified two potential routes for an export pipeline, one of which passes through ATP 2062, and has obtained Petroleum Survey Licence 2049 which traverses a major part of the new permit and will enable on-the-ground investigations of both routes (refer map).
The Company is targeting the Bandanna Formation coals, which are extensive across large areas of the permit.  The potential of these areas is underpinned by Santos' commercial production of gas from the Bandannas at the Arcadia Valley field to the south-east, and Comet Ridge's progress towards commercial production from the Bandannas at Mahalo to the north-east.
Drilling has intersected approximately 8 metres of net coals with the thickest seams in each well (~2.4m and ~2.8m) laterally continuous over many kilometres. The gas content of the coals was as predicted, at between 5 and 6 m3/tonne dry ash free.  Gas is at or near pipeline quality, between 93.8% and 96% methane. The permeability of the two primary seams was excellent, ranging from a good 26 millidarcies to a particularly impressive 395 millidarcies.
The Company has drilled and commenced production testing on a combined horizontal – vertical well pair to further determine flow rates and inform future development.  De-watering activities have commenced with water production exceeding expectations.  Water production exceeding initial expectations with water production indicating that the gas production may also meet or beat expectations.  The Company is confident of encouraging gas production results as testing activities continue over the coming months.